Ocean Isle Beach Gift Shops
Classy But Sassy Gift Shop  – If you are looking for Ocean Isle Beach Gift Shops, Classy But Sassy Gift Shop is one of the best! Locally owned and operated  by Leanne Long, a native of Ocean Isle Beach, NC. Located on Beach Drive (Hwy 179) just a quarter mile to the east of the entrance to Ocean Isle Beach, NC. Classy But Sassy Gift Shop offers a beautiful selection of unique gifts and custom embroidered bags and specialty items. (910) 579-2200 https://oceanislebeach.com/classy-but-sassy-gifts
---
Spiritquest Healing Center & Gift Shop
Spiritquest is not just a place…it's an experience. Upon entering you instantly feel calm and peaceful. Browse our gift shop filled with Crystals, Essential Oils, Candles, Jewelry, Art, Angel gifts, and more. Book a session for a Reading, Intuitive Healing, Past Life, Crystal Healing, Reiki, or a Massage. Join us for a weekly meditation or one of our many other events! Healing prayer Foundation and Chakra Hallway are a must see! 6649 Beach Drive SW #1, Ocean Isle Beach | Phone: 910-444-2229 spiritquesthealingcenter.com  |  [email protected] |  Google Map
---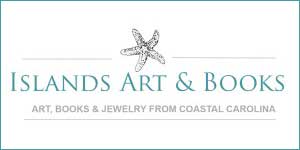 Islands Art and Bookstore features an extensive collection of works by premier local artists and photographic prints at affordable prices. All Giclee' prints are of the highest quality using archival inks and the highest quality materials.
The Giclee' process offers perhaps the highest degree of accuracy and richness of the color palate of all the reproduction techniques available today
You'll find a wide selection of high quality Giclée Prints by local artists: Miller Pope and renowned nature photographer Ken Buckner. Also romance and mystery novels by writers Jacqueline DeGroot, Tom Rieber and others.
Islands Art and Bookstore also offers a selection of books by the area's best writers and illustrators.
Located: In Beach Drive Center at 6885 Beach Drive (Hwy 179) between the islands of Sunset Beach, NC and Ocean Isle Beach, NC.
Islands Art and Bookstore features Beautiful Handmade Sea Glass Jewelry.
The coastal islands of the area have long been a magnet to artists and writers who discover the beauty and romance of the area and decide to put down roots.
All books, photographic prints, original art works and Giclee' prints are by artists and writers who live here or write about the area.
Phone: 910-579-7757 | See Map Here | https://islandsartstore.com